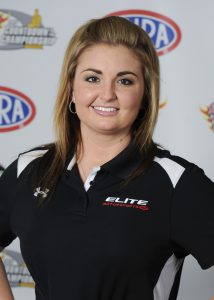 | | |
| --- | --- |
| Driver | Erica Enders |
| Age | 33 |
| Hometown | Houston, TX |
| Current Residence | New Orleans, LA |
| Years Active | 1992-2006, 2010, 2011–present |
| Twitter | @erica_enders |
Omaha Track Racing's driver, Erica Enders, is one of the most decorated female drivers on the racing scene and we are proud to have her on our team. At the age of 16, she competed in her first national event, where she became the youngest NHRA national event finalist ever. In 2012 she became the first woman to win in NHRA Pro Stock, beating four-time champion Greg Anderson in the finals at Route 66 Raceway in Joliet, IL. In 2014, Enders became the first woman to win the NHRA Pro Stock World Championship and was able to win it again in 2015. Along with all of her victories, Enders has broken numerous records including the NHRA National Record for Pro Stock for both fastest time and highest speed traveled, the most NHRA national event wins by a female driver, and the most single-season wins for a female driver.